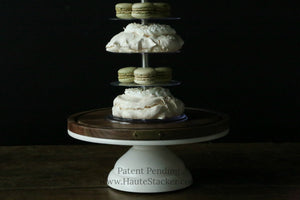 I liked the idea of pairing Joanna's rustic style pedestals and vases with dainty little cakes and the first cake to come to mind was miniature meringue pavlovas.  If you look carefully, you'll notice that of the three "pavlovas,"  only one of them is topped with whipped cream (which is customary for this Aussie dessert), while the others I left topless.  I used some of my fancy piping tips to create some very feminine piles of meringue.
What you need... ~ Chocolate cake doughnuts ~ Rum glaze ~ White frosting ~ Cranberries and mint leaves ~ One Haute Stacker Order Your Haute Stac...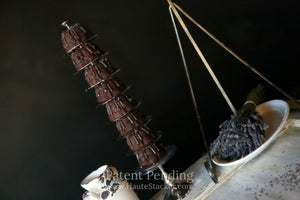 The beauty of 
Haute Stacker

 
is how simple it is to create something grand.  Once you've drizzled your cakes all that's left is to stack them!  It couldn't be easier...just slide each stacker plate over the solid stainless steel post!  Twist the topper...